News and Awards!!
In Fall 2010, Access to Nature received a prestigious Research Honor Award from ASLA – American Society of Landscape Architects. The program had previously received the 2009 Environment + Design Award from CEAL - Center for Excellence in Assisted Living. CEAL is a coalition of 11 national organizations focused on quality of care for older people.

In 2005, an earlier prototype of the Access to Nature program also won the Active Place Design Competition award in product design from EDRA - Environmental Design Research Association, and a Viewer's Choice award from the Harvard School of Public Health.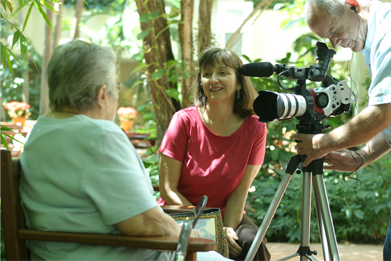 Overview of project
Backed by current research, Access to Nature is a multimedia educational program on improving outdoor access for older adults.

This set of three videos, interactive exercises, and a continuing education course form a powerful learning tool in a format that can easily be applied by designers, administrators, activity directors, gerontologists, and others involved with senior housing.

These guidelines show how to plan outdoor space to benefit health, increase physical activity, and improve quality of life in residential settings at all levels of care.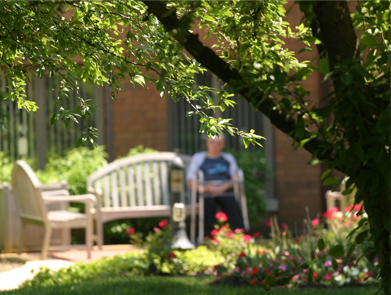 Importance of Nature
Research shows that spending even brief periods of time outside can improve health and well-being. Why is it, then, that so many outdoor areas are seldom used by elderly residents?
Poor design may play a large part in this problem.

This program shows that it is possible, with little increase in cost, to develop outdoor space that is inviting and usable, leading to benefits such as higher levels of physical activity, improved mood, better hormone balance, and better sleeping patterns.
Who are we?

Access to Nature was developed by a large multidisciplinary team of expert consultants and students working with Dr. Susan Rodiek, who teaches architecture at Texas A&M University, with the input of numerous people in the seniors housing and care industry.

You may contact us at (979) 458-1193,
or accesstonature@tamu.edu

Credits for this Program
People and Organizations
A large number of people in several different disciplines have participated in this project at various stages -- from the research and analysis phase, to the design and development of the educational program. We greatly appreciate everyone who contributed to making this a useful and important tool to improve quality of life for older adults.
Special thanks to the following people:
Teresia Hazen
Legacy Therapeutic Gardens and Horticultural Therapy, Portland, OR
Clare Cooper Marcus
Departments of Architecture and Landscape Architecture, University of California, Berkeley
Chanam Lee
Texas A&M University Department of Landscape Architecture and Urban Planning
Marcia Ory
Texas A&M Health Science Center and Robert Wood Johnson "Active for Life" program
Ronald L. Skaggs
HKS Architects, Dallas, TX
and
Renee Grant-Williams
Music Services, Nashville, TN
Funding Support
The National Institute on Aging
SBIR Grant # R44 AG24786
Sidney Stahl
M.D. Kerns
Industry Support for Phase II
Connie Beran

Alice Hedt

Leslie Moldow

Cynthia Rudder

John Derr

Carl Irwin

Robert Mollica

David S. Schless

Mark B. Epstein

Robert Kramer

Richard Ogrin

Lori Walsh

Thomas Grape

David Kyllo

Doug Pace

Paul Williams

Richard Grimes

Karen Love

Karl Polzer

David Hammonds

Colin Milner

Donald Redfoot
External Reviewers for Phase II
Betsy Brawley

Kirk Hamilton

Mardelle McCuskey Shepley

Jack Carman

Scott King

John Zeisel

Clare Cooper Marcus

Karen Love

Lois Cutler

Erja Rappe
Mike Adams

Patrik Grahn

Victor Regnier

Timothy Sullivan

Pamela Anderson

Maritta Haavisto

Peter Rohrer

Paivi Topo

Jeffrey Anderzhon

Phil Jones

Cynthia Rudder

Martha Tyson

Antonieta Angulo

Rachel Kaplan

Walborg Ruohomaa

Roger Ulrich

Paul Beathard

Alee Karpf

Naomi Sachs

Gwen Uman

Barbara Budzinski

Paul Klaassen

David S. Schless

James Varni, M.D.

Maggie Calkins

Robert Kramer

Ben Schwartz

Lori Walsh

Diane Carstens

John Marsden

Yu-Ling Shao

Judith Warren

Uriel Cohen

Mary McGeough

Danny Stribling

Jennifer Weininger

Diane Dowdy

Jim Moore

Peter Studl

Jerry Weisman

Thomas Fairchild

Johan Ottosson

John Sulik

Yvonne Westerberg

Christer Fallman

Andrew Pedersen

Pete Sulik

Paul Williams
Susan Rodiek
Chanam Lee
Roger Ulrich
Sang Nam Ahn

Matt Cefalu

Min-Gyu Kim

Judy Pruitt

Bradley Angel

Chuck Huber

Ross Larson

Jennifer Sembera

Samia Askari

Arleen Humphrey

Chanam Lee

Shelley Shahabuddin

Philomene Balihe

Cody Johns

Robbye Morsko

Zhe Wang

Molly Black

Kimberly Johns

Adam Panter

Trini Watkins

May Boggess

Eun Jung Kim

Jenni Panter
Elton Abbott

Teresia Hazen

Adam Panter

Geoffrey Roehll

Nancy Chapman

Igor Kraguljac

Greg Phelps

Daniel Winterbottom

Clare Cooper Marcus

Ray Mullican

Russell Reid

John Zeisel

David Kamp

Eunice Noell-Waggoner

Susan Rodiek
Elton Abbott

Manas Gopujkar

Taner Ozdil

Eric Thompson

Danny Berger

Schweta Gupta

Adam Panter

Ying Wang

Shawn Chen

Meg Jackson

Dillon Phillips

Zhe Wang

Nancy Crowley

Rae Jacob

Ganesh Rao

Hyung Jin Yoon

Mike Droske

Dyutima Jha

Jin Rao

Wenjun Zhao

Arijit Dutta

Zhipeng Lu

Nandita Raghu

Tony Forshage

Ray Mullican

Susan Rodiek

Chad Garven

Steve Nguyen

Phillip Steffy
and
Megapixel Studios, Houston, TX
Susan Rodiek
Elton Abbott
Tony Forshage
Adam Panter
with
The Arkitex Studio, Inc., Bryan, TX
Video Production and Narration
| | | |
| --- | --- | --- |
| Jeff Blaszak | John Franklin | Robyn McCarthy |
| Khara Emmitte | Clyde Hance | Sean Murphy |
| David Feagan | Igor Kraguljac | Greg Phelps |
| Tony Forshage | Thomas Liberty | Steve Shabek |
and
Frame X Frame Studios, College Station, TX
Animation
Interactive Exercises - Ganesh Rao with Vinod Srinivasan, Mike Droske, and Adam Panter
3-D Animation on "Improving Outdoor Access"- Meg Jackson, Megapixel Studios, Houston, TX
with
Blake Smith
Phillip Steffy
Daniel Berger
Music
"Alegria Passion" from Shockwave Sound
"Despertar" by Aisha Duo, from the album "Quiet Songs," on the ObliqSound label
"Dreamy Piano" from The Music Bakery
Also thanks to:
Renee Grant-Williams, Music Services, Nashville, TN
Gordon M. Gibson, "Solitudes" label, Somerset Entertainment Ltd.
Jon Meyer Music
Blake Samperi
Sean Murphy
Special thanks to:
John McEuen
Video Wizards Music, Inc.
Interactive Exercises
Ganesh Rao
Vinod Srinivasan
Mike Droske
Adam Panter
Website Design
Victor Delgado
Lauren Gulde
Ganesh Rao
and
Santa Clara Design, College Station, TX
Supplemental Readings for Continuing Education Credit
Norwegian Centre for Dementia Research
Vigdis Drivdal Berentsen
Ellen-Elisabeth Grefsrod
Arnfinn Eek
and
Clare Cooper Marcus
with
Mike Droske
Bradley Angell

Jamie Hardin

Adam Panter

Larissa Sandoval

Nathan Bertoldo

Robbye Morsko

Nandita Raghu

Sharon Thompson
Walter Arnold

Jenny Eaves

Patrick Smith

Bill Biggs

Lee Ferris

Roger Ulrich

Christopher C. Colenda, M.D.

Greg Hunteman

Shanae Wilbert

Barney Davis

Marcia Ory

Michael Duffy

Charles Phillips
Sandra Alvarado

T.B. Daly

Sandra Miles

Danny Stribling

Michael Apa

Tracy Ekstrom

Chris Nevaril

Jennifer Weininger

Barbara Brownstein

Jackie Elliot

Kevin O'Donnell

Sara Williams

David Collins

Alicia Lohmann

Rachel Randle

Sharon Cudd

Deborah Mahrt

Leslie Sackett
| | | | |
| --- | --- | --- | --- |
| Len Berry | Kirk Hamilton | George Mann | Murray Regan |
| Susie Billings | Catherine Hawes | Janet Marcantonio | Phillip Rollfing |
| Geoffrey Booth | Robin Hawkins | Joseph McGraw | Martha Tackett |
| Byron Butler | Andy Hietpas | Alisan Morris | Lou Tassinary |
| Preston DuBose | Josephine Hodge | Ian Muise | Dawn Trog |
| Michael Duffy | Linnae Hutchison | Chris Novosad | Anjali Venkataiah |
| Scott Fredericksen | Bill Jencks | Marcia Ory | Ronald Zellner |
| Dolores Gonzales | Carol Lafayette | Judy Pruitt | |
and
The Texas A&M University Mays Business School
Many thanks to the following senior communities and healthcare facilities:
BRYAN/ COLLEGE STATION, TEXAS
| | |
| --- | --- |
| Crestview Retirement Community | Sheridan on Rock Prairie |
| Carriage Inn | St. Joseph Manor Assisted Living |
| Sheridan on Anderson | The Millican House |
| | |
| --- | --- |
| Brighton Gardens - Orland Park | Schwab Rehabilitation Center |
| Belmont Village at Buffalo Grove | Self-Help Home |
| Belmont Village of Oak Park | Smith Crossing |
| Chicago Botanic Garden | Sunrise Assisted Living of Bloomingdale |
| Devonshire of Hoffmann Estates | Sunrise of Buffalo Grove |
| Fountains of Crystal Lake | Sunrise of Flossmoor |
| Friendship Village of Schaumburg | Sunrise of Glen Ellyn |
| Hearthstone at Arlington Heights | Sunrise of Highland Park |
| The Holmstad | Sunrise of Naperville North |
| Inn of Willow Falls | Sunrise of Palos Park |
| Marianjoy Rehabilitation Hospital | Tabor Hills Retirement Community |
| Montgomery Place | The Seasons at Glenview Place |
| Meadows of Glen Ellyn | Village Woods |
| The Morton Arboretum | Weinburg Community |
| The Park at Vernon Hills | Willows of Hawthorne Lake |
| Peace Village | Woodlands at the British Home |
| | |
| --- | --- |
| The Abbey at Westminister Plaza | The Hampton at Willowbrook |
| Atria Kingwood | Harvest Home |
| Atria Sugarland | Hearthstone at Cyfair |
| Belmont Village at Holcombe | Hearthstone at Riverside |
| Brighton Gardens at Bellaire | Heartland Healthcare Center at Willowbrook |
| The Buckingham | The Heritage |
| Champion Oaks | Medallion Assisted Living |
| Clarewood House | Oasis Lifestyle |
| Edenbrook of Champions | Parson's House |
| The Forum at Memorial Woods | Sugarland Oaks |
| Greatwood Retirement AL Community | Swan Manor |
| The Hampton at Pinegate | The Rosemont Assisted Living of Clear Lake |
| The Hampton at Shadowlake | Tomball Retirement Center |
| The Hampton at Spring Shadows | |
Aegis Lodge at Totem Lake
Lakeshore
Aegis of Shoreline
Madison House Retirement Community
Bethany at Silvercrest
The Marymoor
Brighton Gardens of Orland Park
Merrill Gardens at Admiral Heights
Brighton Court
Merrill Gardens at Marysville
Cancer Lifeline
Merrill Gardens at Mill Creek
Crista Ministries Senior Living
Merrill Gardens at Monroe
Daystar AL Westwood
Merrill Gardens at West Seattle
El Dorado West Retirement Community
Merrill Gardens at Queen Anne
Emerald Heights
Norse Home
Everett Plaza
Olympic Place Retirement and AL Community
Evergreen Hospice
Pete Gross House
Evergreen Lodge
Sunrise of Bellevue
Faerland Terrace
Sunrise of Edmonds
Fred Hutchinson Cancer Center
Village Green
Hearthstone of Green Lakes
Woodland Park
In memory of
Kevin O'Donnell
Frank Pley
Marie Jansen